Stage It! Charlotte
Professional home staging services for the greater Charlotte, NC market.
Get Started
HOME STAGING + RENOVATION + DESIGN
Let our team of Accredited Staging Professionals® get your occupied or vacant home market ready. It is proven that a staged home sells faster and for more money, regardless of the market.
People buy what they see, and when buyers enter your home you want them to see the full potential.
After an initial visit with a team member, we will come up with a staging plan just for you. If agreeable, then your staging is scheduled, and we will reserve your furniture, art, lighting, and accessories from our approximately 15,000 square feet of warehouse space. All furnishings will be chosen to best compliment your house.
Staging usually takes one day and then it's time to put your beautiful home on the market, sit back and watch how fast it sells with Stage It!
Let our team of home renovators help you with your project. Whether getting "resale ready" or creating the ultimate space for your pleasure, don't let the process be overwhelming. We meet with homeowners to discuss the scope of the project and budget to maximize your dollars and time.
Our professionals can guide you with choices and handle all scheduling of subcontractors in order to complete your project in a timely and efficient manner. Our team has the capacity to renovate a single room to an entire house.
Let our Design Specialists create the showplace you want your home to be. Our team specializes in all aspects of interior design: paint colors, fabrics, lighting, art, furniture and accessories.
We attend the High Point Furniture Market, the Atlanta Market and others, as well as maintain accounts with local retailers for furniture, fabric and accessory needs. Our team relies on professional contractors for all installation, recovering and painting, so your project can be completed with one stop at Stage It.
Staged homes often sell faster and for higher prices than unstaged homes. Here are some of our recent success stories.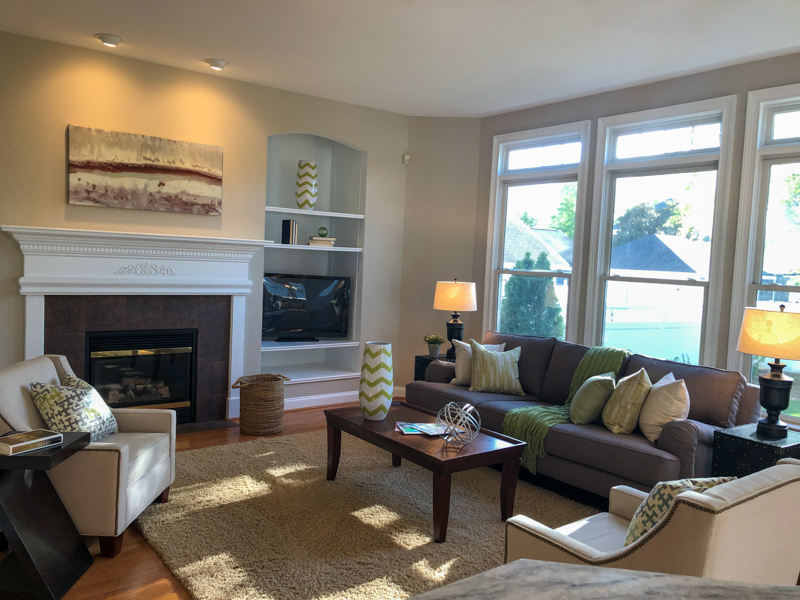 SOLD IN 1 DAY OVER ASKING
This team effort involved Renovation Expert, Matt Bradshaw, managing the painting of kitchen cabinets, countertop replacement and new flooring installation.  The Staging Team completed the project, choosing a serene, current furniture style, perfect for Baxter Village.  Listed at $389,000.  Closed at $390,000.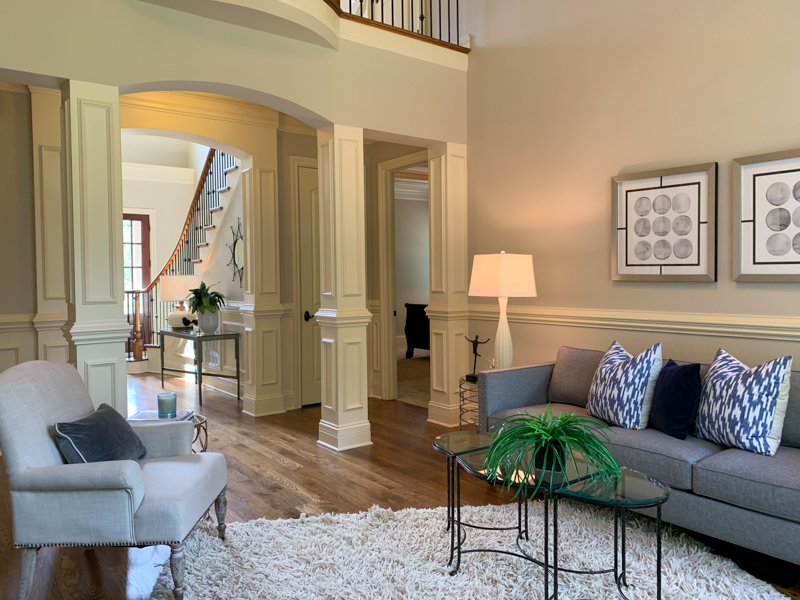 SOLD IN 3 DAYS OVER ASKING
This five bedroom house in Providence Downs required some of our finest furnishings.  Stage it first and sell it fast!  Listed at $775,000.  Closed at $776,900.